Mitsubishi Delica - fun four wheel driving for the whole family, and we have the Delica parts to make it happen!
We ship Australia Wide!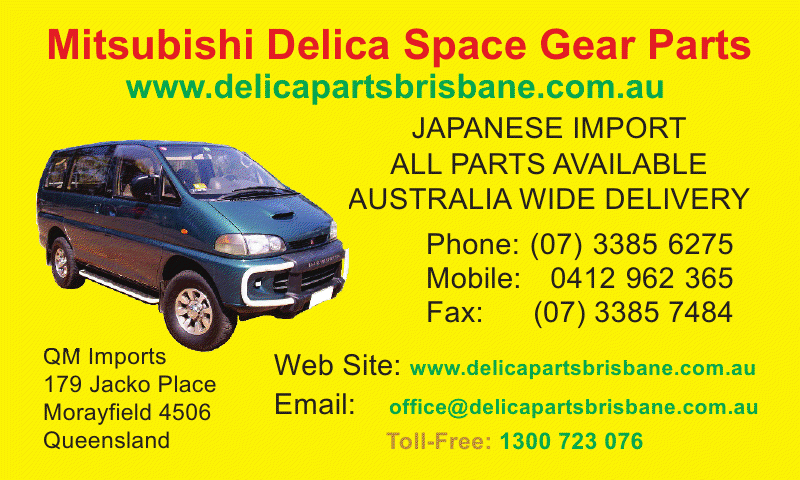 Do you have a Mitsubishi Delica L300 or L400? Chamonix, Exceed, Super Exceed or other?
Delica Parts Brisbane has what you need for your vehicle. Trading since 2006, Dominic has been active with Delica Parts in the Delica community, as well as the Delica Club, and established a wonderful reputation for honesty and service for Mitsubishi Delica parts and service.
Please browse our new, improved web site. If you have questions, contact Dominic on 07 3385 6275 or 0412 962 365. Thank you from the Delica Parts Brisbane team.
SUPER SPECIALS ON ALL FILTERS! 
 ~ All prices include GST ~
Delica Parts Brisbane no longer at delicaparts.com
We are the original owners of Delicaparts.com. Due to legal issues our website was taken away from us. We are still trading under the original ABN and we are still at 179 Jacko Place Morayfield. If you have any concerns please contact us using this web form, call us on 07 3385 6275, or even drop by and I will explain it to you. Until our legal issues have been sorted we will be trading under this domain name. If you have any doubts on who you are trading with please check the ABN, phone number and business address and that it matches these details and/or prior invoices from the November 2011.
Click here to email our office to make an enquiry
Our business details are:
Delica parts
ABN 73 633 029 312
179 Jacko Place
Morayfield 4506
Phone: 07 3385 6275